13. 10. 2023 – 17. 03. 2024
Between 13th of October 2023 and 17th of March 2024, the Archaeological Museum Frankfurt (Archäologisches Museum Frankfurt) in Germany is hosting the archaeological exhibition Tweets from the Past. Slovenian archaeology through sounds, symbols and first written words." The exhibition was initiated by the Frankfurt Museum as part of the side events of the Frankfurt International Book Fair, of which Slovenia is the guest of honour.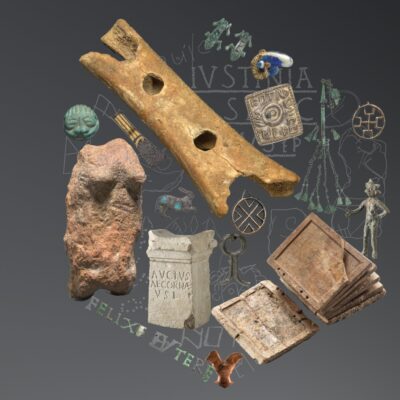 The exhibition, which presents Slovenian archaeology through three specific types of objects (those associated with sound and music; symbolic objects; objects bearing the earliest written words), is the result of the work of ten museums that preserve Slovenia's archaeological heritage: Dolenjski muzej Novo mesto, Narodni muzej Slovenije (which is leading the project), Pomurski muzej Murska Sobota, Pokrajinski Muzej Koper, Gorenjski muzej, Tolminski muzej, Pokrajinski muzej Celje, Pokrajinski muzej Ptuj Ormož, Goriški muzej in Mestni muzej Ljubljana.
The Dolenjska Museum is represented by five objects: a bronze sceptre (Novo mesto, Kapiteljska njiva, grave XXIX/2), a glass necklace (Novo mesto, Kapiteljska njiva, grave XIV/41), a pottery rattle (Novo mesto, Kapiteljska njiva, grave 595), a gold ring (Novo mesto, Kapiteljska njiva, grave 390), and a house urn (Draga pri Beli Cerkvi, grave 20).