The exhibition presents the area of central Dolenjska, which used to be a region of a predominantly agricultural character. As late as the 1960s, two thirds of the inhabitants made a living by agriculture and similar activities. 
The exhibition tells the story about life and work of farmers and tradesmen in the 19th century and the first half of the 20th century through objects, documentary photographs, pictorial material and short texts in Slovene and English. The classical exhibition is accompanied by audio-visual content displayed in digitalized form in one of the rooms.
The focus is on material culture, especially items associated with economic activities: foraging, hunting, dormouse hunting, fishing, livestock breeding, agriculture, and viticulture – the latter has been present in Dolenjska ever since the Middle Ages, leaving its distinctive mark on the land.
Craft and trade activities, both urban and rural, were quite common and typical in this area: milling, leather trade and shoemaking, pottery making and the Keramika Novo mesto factory.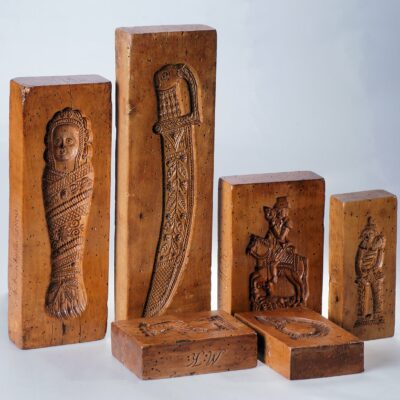 Gingerbread and candle making are represented by one of the few entirely preserved gingerbread ("lect") workshops in Slovenia, featuring a rich collection of wooden carved moulds for lect and wax votive figurines from the 18th and 19th centuries.
Milling and pottery are presented in a similar manner, with a reconstructed pottery workshop and a reconstructed mill featuring its original equipment.
When it comes to intangible heritage, the exhibition presents folk art and the customs related to the annual calendar cycle: Shrovetide, Easter and Christmas traditions.
Viticulture has been leaving its mark on a part of Dolenjska for centuries. In addition to winemaking tools and vessels, there are two especially interesting exhibits: a fragment of a wooden wall of a wine storage shed with a preserved wooden keyhole and a key from the mid-19th century, and a wooden painted wine press with two screws from the same period.