The collection of artworks by painter, printmaker, art teacher, and academician Božidar Jakac (1899 – 1989) contains 828 works donated to his hometown of Novo mesto by the author himself. The rich opus includes his works from the years 1910/1911, when he was starting as a self-taught artist, his first serious efforts as a high school student in Idrija, the works of the young artist created during World War I, the works he made as a university student in Prague, where he proved an especially gifted drawer and printmaker, portraits of the artist's family and friends, as well as important Slovene cultural workers and artists, 
poetic motives of Dolenjska landscape, works that provide an insight into the artist's travels around Slovenia, Europe and other continents, and finally, the works of his mature period and old age.
Since the exhibition area is far too small to present all of the donated works, the Božidar Jakac permanent exhibition only displays a selection. The first exhibition room encompasses two periods of the artist's life: the time before his studies and his time as a student of the Prague Academy of Fine Arts.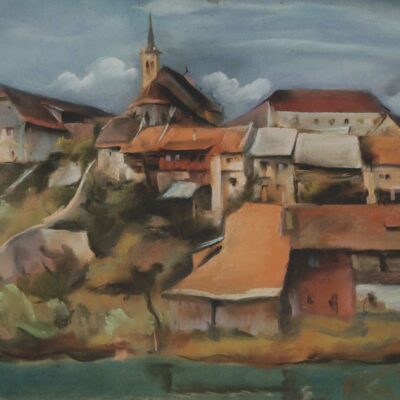 Landscape is presented in the second room, with a special emphasis on the motives from Dolenjska and Novo mesto, which left an indelible mark on the artistic career of Jakac, who kept returning to his hometown of Novo mesto.
The third exhibition room features some of Jakac's many portraits and self-portraits. His respect for culture and artists was expressed early in his youth, when he would create portraits of his artist friends. Later, this became a planned and systematic activity.
The fourth room presents the works created by Jakac in his travels in Europe, North America and North Africa. These travel motives can be divided in groups by the time of their origin and, to an extent, geography: the Paris motives, created between 1922 and 1925, motives from Tunis, created in the years 1925 and 1928, motives from Venice from 1926, motives from the USA, created between 1929 and 1931, and motives from Norway (1936).